"Breathe In, Breathe Out" and "A Pirate Looks at Forty"
Favorite songs of new Margaritaville Hilton Head residents
"Right now, we are sitting out on our lanai, totally chillaxing, and listening to Margaritaville radio in shorts and t-shirts on Feb. 6. This is just a little piece of paradise. On November 13th, we were the first ones to close on our new house in Margaritaville Hilton Head and we haven't looked back,"
says Pat Frank.
Gil and Pat Frank have always been Jimmy Buffet fans. When Minto Communities announced the first Latitude Margaritaville active adult community in Daytona Beach, the Franks were immediately intrigued. Gil said, "We were very interested, but we've always loved the Lowcountry area—the Savannah, Hilton Head, and Beaufort area. As soon as they announced Margaritaville Hilton Head, we knew this was just a natural for us and we put down a down payment to purchase a lot. On the day the lots went on sale, we had just gotten back from a Smooth Jazz Cruise in Ft. Lauderdale, so we picked out our lot from the airport in Ft. Lauderdale and it went very smoothly from there." Gil recently retired from a career as a neonatology specialist. And, so far he hasn't missed it. He and Pat have been enjoying spending time with their new neighbors. Gil said, "The timing could not have been better. It was time to go and start a new life. The people we have met here all have the same approach to life, it's a laid back atmosphere, but very active. Buffet is more of a lifestyle. You don't have to like his music to enjoy the laid back lifestyle. Everyone is so friendly. It's a microcosm of all different backgrounds. Everyone is generally caring about one another."
"We are in a villa, a duplex, and it's just a perfect downsize for us. We downsized from 3,700 sq. ft. to 1,850 sq. ft. with a 200 to 300 sq. ft. screened lanai. The villa is so well-constructed that we don't hear any noise next door. The home is much more spacious than we expected. It's light and airy with a Caribbean feel. Our builder was great; he kept in contact with us and every Friday we would get photos and follow along with the process. We love the maintenance-free aspect—and, we don't have to cut the grass."
The Franks and other residents also enjoy the Lake Latitude Club that features a resort-style pool, beach area, fitness center, and party room. Additional Phase One amenities are under construction and slated to open fall 2019. Latitude Margaritaville Hilton Head residents will enjoy walkable neighborhoods, golf cart-friendly streets, and a lively Town Center. Music will play an important part in all Latitude Margaritaville communities, and residents will enjoy live entertainment under the bandshell and dancing in the Latitude Town Square. Latitude Margaritaville Hilton Head will also have an adjoining 290,000-square-foot golf cart-accessible neighborhood retail center that is being developed in partnership with Sutton Properties, Inc.
According to the Franks, there is a fantastic activities director who keeps everyone active. Group outings organized by the community lifestyle directors include fun get-togethers like Java Monday, Welcome Wednesday, Fintastically Fun Friday, Pickleball, Pins & Fins Bowling, Brunch Run Club, Chill & Fill dining outings, Pets in Paradise, and the list of creative Margaritaville fun goes on.
The longtime love of Jimmy Buffet's music attracted the Franks to their new life at Latitude Margaritaville and they couldn't be more excited about the adventures in their future.
www.latitudemargaritaville.com
Return to Ideal Life.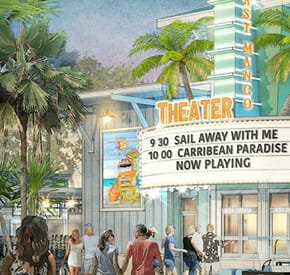 Latitude Margaritaville Hilton Head
Your Latitude! You've earned a life where every day feels like an escape. Find your paradise at Latitude Margaritaville, the 55-and-better lifestyle where fun and relaxation meet. Inspired by the legendary music and lifestyle of singer, songwriter and best-selling author Jimmy Buffett, this is where life rolls easy, neighbors are friends and the party never ends. Awesome recreation, FINtastic dining and entertainment will make the town center the place to be and just a golf cart ride away. Masterfully crafted new Latitude homes let you hang your hat where your heart is.
Read More...
Your Information Request for your selected properties