To live where you vacation is more accessible now than ever.
Let's take a quick look at history. It's not something you really ever think about, but who actually were the first Americans to take a proper vacation… other than the ultra-rich Vanderbilts, et al. According to research by the Smithsonian Magazine, they suggest that the first American vacationers were lured to the Adirondack Mountains in upstate New York by a Boston preacher, who in 1869, wrote a widely-read treatise on the spiritual and health benefits of time spent lakeside in the forest. An unusually wet spring that year, however, meant the mosquitoes and flies were abundant in both numbers and aggravation. City slickers who had never slept in a starched, white tent under the stars were underwhelmed at the prospect of their vacation.
This is not so much a problem in 2018, when vacation possibilities are endless and luxurious. And with repeat visits, vacation destinations become ever-more comfortable, familiar, homey, and sometimes even soul-transforming. So much so that a vacation destination might just grab hold and say, "You know, this would be a wondrous place to relocate or retire."
Just ask the couples we spoke to about their transformation from vacationers to residents.

Nick and Diane Karbonik The Peninsula, Millsboro, DE
Nick and Diane Karbonik first started bringing their girls to Ocean City, MD, and Rehoboth Beach, DE, 40 years ago during summer vacations from their home near Baltimore. So there was no learning curve when the couple decided to retire at The Peninsula, an artfully-sculpted 800-acre community tucked between those two historic beaches and framed by the expansive Indian River Bay.
Diane reveals, "A couple years ago we were visiting our daughter and son-in-law, who is the head golf professional at a country club in Rehoboth Beach. One day he managed to get us a tee time at The Peninsula. I remember driving through the community that first day and saying, 'Gosh, I could live here.' And now we do!"
The Peninsula offers gracious waterfront living, a predictably spectacular Jack Nicklaus-designed golf course, and a stunning new clubhouse that just opened last year. Amenities also include an eight-court tennis center; an indoor, outdoor, and wave pool complex; athletic club; a protected nature reserve; the restorative Calmwater Spa; and gourmet fare from the Terrace Grille.
"When we first started coming here on vacation, Rehoboth Beach was a sleepy, little summer town. But now it has year-round vibrancy, with plenty of great restaurants, quaint shops, civic activities, and of course the historic boardwalk, which is great multi-generational fun," explains Diane.
One of the added benefits of The Peninsula's central location is easy day-trip access to Washington, D.C., Baltimore, and Philadelphia (all just over a two-hour drive), and Historic Williamsburg and Jamestown are just over three hours away.
"When we first started coming here on vacation, Rehoboth Beach was a sleepy, little summer town. But now it has year-round vibrancy, with plenty of great restaurants, quaint shops, civic activities, and of course the historic boardwalk, which is great multi-generational fun."
— Diane Karbonik
We thought the Karbonik's 40-year vacation history with Rehoboth would hold the record until we met Gail Mitkoff, who has been vacationing in Ocean City from her family home in metro Washington, D.C., since junior high, a full 50 years!
Decades of blissful vacationing at Ocean City over the years finally led to a more permanent villa purchase there in 2015, overlooking a rare eagle's nest near the beach. But a year later, retirement took hold and Gail decided to seek life in a more formal community and a single family home, where friends were easier to meet and recreational amenities were in abundance.
Enter Bayside, a welcoming planned community on Fenwick Island, just a stone's throw over the Maryland border north into Delaware, and a new chapter in life.
Gail had to stop and gather herself prior to describing all the activities in which she participates at Bayside. "Well, first there is the golf course, which I don't use a lot, but it sure is beautiful to look at. And I certainly take advantage of the new health and aquatic center, biking trails, crabbing, and fishing, not to mention the miles of sublime beach strolls that can only come with a coastal life. And I even joined the mahjong club," she said with a twinkle.
Gail is also in regular attendance at the Bayside Institute, a catalyst for bringing community residents together in wellness, creative writing, heart- healthy cooking, kayaking, flower arranging, and loads more. And she thoroughly enjoys concerts at the community's outdoor Freeman Stage, featuring musical artists like Vince Gill, Smokey Robinson, the Celtic Tenors, a theatrical performance of Mary Poppins, and more.
Bonnie & Tom Nelson|Bay Creek, Cape Charles, VA
The same central location travel benefit go for Bonnie and Tom Nelson, who purchased a vacation condominium 15 years ago at Bay Creek in Cape Charles, VA, overlooking the historic waters of the Chesapeake Bay. Turns out Bay Creek was just far enough south from their permanent residence in Kinnelon, NJ, to get close to water and enjoy a more temperate climate, while enjoying all the benefits of living among both Arnold Palmer and Jack Nicklaus golf courses.
Three years ago, the Nelsons graduated from vacationing in the condo to a more permanent residence in a single family home wrapped by holes 3, 4, and 5 on the Palmer course, which the grandkids have turned into a kind of five-hole loop to play after dinner when the course is quiet. Now in high school, those kids learned to play golf at around age five from the assistant golf professional at Bay Creek, and one of them has made his high school varsity golf team as a freshman!
Bay Creek is predictably rich in amenities, most noticeably a two-mile stretch of sand beach, one of the few beaches on Chesapeake Bay's eastern shore. There's also a marina, beach club, and fitness center, plus bayside dining at the embracing Coach House Tavern.
Bonnie is an accomplished gardener, as evidenced by their home's recent selection for the 2018 Eastern Shore Home and Garden Tour. "What attracted us to Bay Creek in the first place remains what we love today: The great vistas, the beach, the golf, and the amazing sunsets," offers Bonnie.
Cape Charles is a vintage seaside town overlooking the Chesapeake Bay on Virginia's Eastern Shore. Founded by a railroad magnate in the late 1800's, it was said to be designed around New York City, with even a small "Central Park."
Dorothy and Marv Gelb | St. James Plantation, Southport, NC
Some folks are more quickly smitten than those who have waited 50 years, like New Yorkers Dorothy and Marv Gelb, who bought a pre-retirement lot on their very first visit to St. James Plantation in Southport, NC, in 2006. The pair was visiting Dorothy's best friend since third grade, Linda Jenkins, and her husband Bob.
Dorothy describes that, "The Jenkins gave us a glorious tour of St. James and coastal Southport as only locals can, then took us out on their boat for a picnic cruise on the Intracoastal Waterway. And we were sold. It's that wonderful here."
The Gelbs have had a lot of time to reconsider their lot purchase, but repeated vacations over the years confirmed their love of the area, and in 2016 they built their dream retirement home and have quickly become engaged in the local community.
Bob is an adept piano player and has become in high demand, playing 'standards' at charity fashion shows, art galleries, the local hospital, and fundraisers for the St. James Service Club. Dorothy is very active in the Southport Presbyterian Church, when she's not playing tennis or taking a tennis clinic.
St. James Plantation is just an idyllic 6,000-acre planned community of beautiful coastal landscape tucked at the very southeast tip of North Carolina. Life at St. James is all about being outside and being active. The community has 81 holes of golf, 13 tennis courts, a marina, a beach club, four fitness centers, and 36 miles of hiking and biking trails. Naturally, there is also the Intracoastal Waterway and Atlantic Ocean beyond for boating, paddleboarding, and kayaking.
"We are completely embracing the active lifestyle in Southport," remarked Marv. "We are on the Atkins diet, we're bicycling every day, going to the beach and pool, and living as active and healthy a lifestyle as we can in this beautiful setting."
And, of course, they can always grab a can of bug spray at the marina store in the event of an unusually wet spring!

"We are completely embracing the active lifestyle in Southport."
— Marv Gelb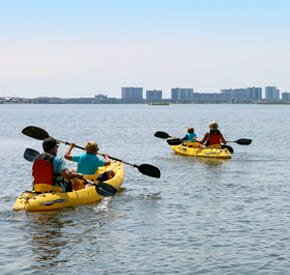 Bayside
Bayside is an award-winning classic beach resort community developed by the regionally renowned Carl M. Freeman Companies. Tree-lined streets showcase a community of stunning homes - all inspired by the New England coastal towns. Our Bayside community is ideally nestled in this quiet resort town with access to all that it has to offer. As one of Delaware's finest coastal destinations, Fenwick Island is beautifully serene but with plenty to do. Once you're here, you might notice your cares melting away as the beaches of Fenwick Island call your name.
Read More...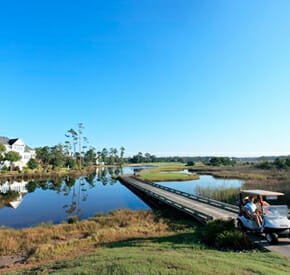 Your Information Request for your selected properties