A Few Fun Facts
After more than 400 years, from agricultural development to 
urban sprawl, about 60% of Virginia is still covered by forests.
About 70% of all Internet traffic flows through data centers in Northern Virginia.
Nearly 25% of all Virginia workers are employed by the United States government.
Virginia's 250+ wineries produced 6.5 million bottles of wine in 2015.
The 105-mile Skyline Drive through the Shenandoah National Park connects with the first 213-mile portion of the Blue Ridge Parkway to create a spectacular Virginia roadtrip that every American should enjoy at least once.
Historically Significant
Sir Walter Raleigh named Virginia for Elizabeth I, the "Virgin Queen" of England. Frontier portions of the colony later became the states of Kentucky and West Virginia.
Jamestown, the first English settlement in the U.S., was founded in 1607 for the purpose of silk cultivation. When a fungus killed the mulberry trees upon which the silkworms fed, Virginia farmers survived with a new indigenous cash crop—tobacco.
Eight U.S. presidents were born in Virginia—George Washington, Thomas Jefferson, James Madison, James Monroe, William Harrison, John Tyler, Zachary Taylor, and Woodrow Wilson—and 78 Virginians have become governors of other U.S. states.
Virginia's College of William and Mary, founded in 1693, is the nation's second oldest institution of higher learning and home to the first U.S. law school, established in 1779.
The 301-acre Colonial Williamsburg, with restored and replicated buildings staffed by authentically costumed guides, is the world's largest living history museum.
The Governors Land at Two Rivers
Celebrating 25 years of distinctive living, you'll find that The Governors Land at Two Rivers offers an active lifestyle for all ages since our diverse community is one-third families with children, one-third working couples and one-third retirees.
Read More...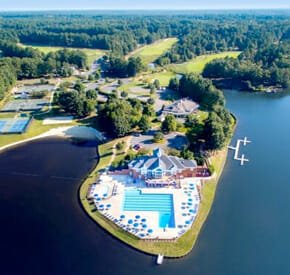 Fawn Lake - Virginia Gated Communities
Spanning over 2,350 acres of gently rolling countryside just nine miles west of the historic city of Fredericksburg VA,
Fawn Lake
offers the unique opportunity to live in the relaxed resort atmosphere of a gated community and carefully preserved trees with a 288-acre deepwater lake with over seven miles of shoreline plus and an Arnold Palmer...
Read More...
Your Information Request for your selected properties