The Cliffs at Glassy is a private residential community in upstate South Carolina with a spectacular centerpiece golf course. Set atop Glassy Mountain at elevations up to 3,200 feet, the panoramic views of Blue Ridge peaks and lush highland valleys are simply stunning. A little warmer in the winter sunshine and definitely even milder in summer than the surrounding protected woodlands, the red-and-gold autumn scenery up there is as cool as the crisp mountain air.
Insider tip: Bring your binoculars.
The Cliffs at Glassy layout isn't just another pretty face. Course architect Tom Jackson designed it so that proud members and their awed guests could put up a good score from the forward tees, while scratch players find plenty of worthy challenges from the tournament tees on the flawless bentgrass fairways and greens. Afterward, everyone can enjoy socializing in the member clubhouse over a gourmet dinner following refreshments and another glorious sunset.
Once in a while, bursting out of our virtual cocoons and savoring the actual experience of a magical place can be a very healthy enterprise. The Cliffs at Glassy is inviting you to do just that with a Discovery Tour package this season that includes accommodations, dinner, and one unforgettable round of mountain golf. The details are available at GlassyLiving.com.
Golf Digest named these as 
"America's Most Scenic Golf Courses:" Pebble Beach, 
Augusta National, Cypress Point, and The Cliffs at Glassy.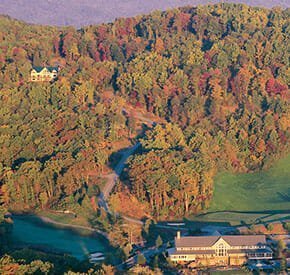 The Cliffs at Glassy
The Cliffs at Glassy is a premier, 3,500-acre golf and wellness community. Established in 1991, Glassy was the first of The Cliffs' seven communities and the first gated, master-planned mountain community in the state of South Carolina. Perched atop Glassy Mountain, the community boasts elevations as high as 3,200 feet offering panoramic views of the surrounding Blue Ridge Mountains. The Cliffs at Glassy is nestled among over 12,000 acres of protected wilderness, ensuring these captivating views and natural splendor remain untouched for generations to come.
Read More...
Your Information Request for your selected properties