A fairly young city, Aiken, South Carolina was founded in 1835, and named after William Aiken, then president of the South Carolina Railroad. Near the South Carolina-Georgia border, Aiken is just thirty minutes from The Augusta National Golf Course, home of the Masters Golf Tournament. It's centrally located; approximately two-and-a-half hours from both the Blue Ridge Mountains and Atlantic Beaches.
Southern Draw
Aiken is a smallish town with a big personality, and a year round equine and golf destination. Its humid subtropical climate boasts temperatures ideal for those trying to escape harsh winters, but still desire seasonal variance. It's famous for an average of 210 days of sunshine, and the native Sabal Palmetto Palms that line roads and highways, and pop up along the outskirts of shady forests. Over the years, southern charm and the area's northeastern roots have blended to create traditions and a culture that have made Aiken a bit of a South Carolina standout.
Once a winter colony designed to create an escape for the elite of the northeast wanting to flee from harsh winters, the equine sporting tradition in Aiken began with families the likes of the Vanderbilts, and the Rockefellers. The horse racing and training industry remains a integral force in Aiken's culture and economy. It's known as the horse training capital of the world. The home of the Fall Steeplechase and spring's Triple Crown, Aiken attracts tens of thousands of visitors from around the world.
While the equine sporting tradition remains, the city of Aiken has changed and modernized significantly around it. Dirt paths still connect to downtown Aiken, with a stoplight designed specifically for horses and their riders. Recent downtown revitalization brought an influx of high-end restaurants, boutique shops, and a thriving arts and culture scene.
The Augusta National is indeed the area's most famous course, but Aiken is an equally popular golf destination for non-professional players.
Places to See
Carolina Bay Nature Preserve
Not your average old body of water, Carolina Bays are oval or circular depressions thought to be the result of meterorite impact. Over centuries, they have become natural wetlands in the lowlands of South Carolina. The preserve boasts plant and wildlife not seen elsewhere.
Hopelands Gardens
Walk beneath century-old Live Oaks along Hopelands Gardens Estate paths to tour the property and gardens bequeathed to the City the Aiken by Mrs. Oliver Iselin, known as "the great lady of horse racing".
Dupont Planetarium
There's nothing like a narrated peek at what's up and out there. Situated on the campus of the University of South Carolina at Aiken, the planetarium's educational program is directed and run by professors and students of the College of Sciences.
Mardi Gras Festival
Creole cuisine and Abita Beer dominate this yearly festival scene in downtown Aiken every February. Complete with a parade, plenty of beads, bagpipes, and a raucous good time, you might want to plan your trip around this one.
Rose Hill Estate
Initially a winter colony for elites from the northeast, this complex was the first in Aiken to make the list of National Register of Historic Places. It encompasses an entire city block in downtown Aiken, but its intimate charm, stunning grounds, and stately aura has been maintained.
Stables Restaurant
Formerly the Rose Hill Estate's stables, this downtown Aiken restaurant is one of four in the country to have made the stable-to-table transition.
Hitchcock Woods
Hitchcock Woods is sprawled out over 2,100 acres, making it one of the largest urban forests in the country. 70 miles of sandy trails make a horseback tour with the folks at Rebel Ranch Horse Tours the way to go.
Art and Soul of Aiken
Aiken's creative outlet and gallery of fine, local art, Art and Soul is a place for local artists to sell, and for budding artists to learn to create.
Seahorse stables
Seahorse Stables offers charming cottages and nearby stables for visiting horses and their families. At Seahorse you can rent horses or bring your own. Trails, tours, and lessons are available.
Aiken Steeplechase and Horse Park
Home of the Triple Crown Races, plan to discover Aiken in March to view the race of your life at Aiken Steeplechase.
Where to Live
Woodside
A Southern Living-Inspired Community, Woodside is a gated, golf-centric, 55 plus community. The Reserve Club is the community's social hub with 60+ clubs including a 75-member Trails Club. Woodside makes it easy for visitors to "live like a resident" with a $199, 2 night, 3 day Discovery Package when exploring their ideal living options.
Mount Vintage
A 2,000-acre private golf community situated between Aiken and Augusta, Mount Vintage hosts a 27-hole golf course designed by world-renowned architect, Tom Jackson. The semi-private clubhouse is a fully restored Piedmont Plantation home built in 1840. Mount Vintage's nearby Town Center complete with Athletic Club, community garden, and lending library speaks to the family and community focused culture at Mount Vintage.
The Bradshaw Group – Lake Greenwood Real Estate Source/Greenwood Real Estate
Lake Greenwood property is coveted, to say the least, both as second home sites and by active adults looking for their ideal forever home. The Bradshaw Group is Greenwood's top source for ideal lake homes and property. A bustling and progressive Downtown Greenwood breaks through lake life seclusion, lending lake lovers access to cultural luxuries, nightlife and culinary sophistication.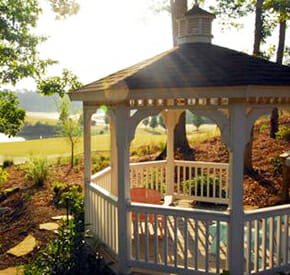 Woodside - South Carolina Gated Communities
Carefully planned 2,800-acre gated community, recently named one of
Money Magazine
's "Top Ten Retirement Communities." Three private 18 hole championship golf courses, tennis pavillion, wooded walking trails and more. Top medical facilities, university town with a mecca of cultural events.
Read More...
Mount Vintage
Mount Vintage is a well-established 2,000 acre private community conveniently located just a few miles from Augusta, GA and Aiken, SC. Carefully planned to enhance the natural beauty and tranquility of this setting...it is truly one of a kind.
Read More...
Your Information Request for your selected properties