"After all of those years of working, this is what life is all about. We feel like we are on vacation the whole time," says Debbie.
Debbie and John Lane relocated to Brunswick Forest, just 10 minutes outside of historic Wilmington, NC, in September 2015. Set on 4,500 acres of heavily-wooded land only 30 minutes from area beaches, Brunswick Forest is one of the nation's top master planned communities with abundant amenities including golf, kayaking, fitness center, and a town center with retail, dining, medical, and professional establishments.
In 2011, the Lanes embarked on a five-year plan to retire and relocate. They had lived in Herndon, VA, for 22 years, where John commuted to his job at the FDIC in downtown Washington, D.C. Tired of the traffic, they knew they wanted something different for retirement.
"We attended two trade shows [Ideal-LIVING Resort & Retirement Shows] held in Tyson's Corner, VA, and met with the representatives from several East Coast communities from Georgia to Tennessee. We also talked to the various builders that were there, and it really got us thinking about retirement. The information was very helpful. Ideal-LIVING gave us the opportunity to narrow our choices. We had vacationed to Duck, NC, for 15 to 20 years, and knew we liked North Carolina area beaches. We knew we wanted to be off of the beach, but still beach accessible. Brunswick Forest checked off a lot of the things we wanted—golf and a riverwalk close by in downtown Wilmington with lots of restaurants. We moved into our new home built by Kent Homes in September 2015, a year ahead of schedule!!" said John.
"We really like the 100 or so miles of hiking and biking trails at Brunswick Forest. We love to ride our bikes around the neighborhoods and still love to tour through model homes in the community. Sundays are our day to tour through model homes and we even met friends from Chicago doing the same thing. Now we go to dinner with them and play golf with them."
The Lanes take advantage of Brunswick Forest's Cape Fear National Golf Course. John has been on the board of the men's golf association and plays two to three times a week and Debbie also plays a couple of times a week. Debbie said, "Little did we know we were going to need a budget for golf."
Extremely active in their retirement, they also love to kayak and now own two kayaks. They play cards a lot, are involved in a wine tasting club, frequent area beaches, and enjoy attending cultural events in Wilmington. The Lanes are also avid travelers. Along with friends they have made at Brunswick Forest, they have taken a river tour from Switzerland to Amsterdam, a cruise from Rome to Barcelona, just returned from Banff, Canada, and will be going on a cruise from New Zealand to Australia this year. John even went to Scotland with three golf buddies for a golf trip.
"We never thought retirement could be so busy. The people all came here for the same reasons. We tell people it's not a question of being busy, it's more difficult just to learn when to say NO. We sometimes need just a day to relax."
Return to Ideal Life.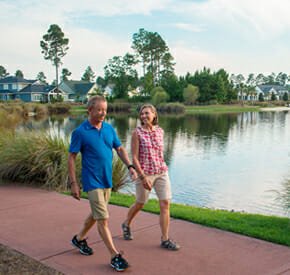 Brunswick Forest - A North Carolina Coastal Retirement Community
Brunswick Forest,
the Coastal South's fastest growing community
, is located on North Carolina's Cape Fear coast, just minutes from historic Wilmington. This 4,500-acre retreat features a wide array of neighborhoods and lifestyles, 18 holes of golf at Cape Fear National, a Clubhouse, River Club, Fitness & Wellness Center, parks and more than 100 miles of walking, biking and nature trails linking residences and amenities.
Read More...
Your Information Request for your selected properties