On their way into Fawn Lake, a gated lakeside community in Spotsylvania, VA, discerning visitors might notice some interesting indentations along the side of the road, accompanied by a sign: "Protected Area." Residents have ample opportunities to stay active at Fawn Lake through access to fantastic amenities. Hiking trails, a beautiful lakeside beach, and a deep water marina are among them. But, every day, they also drive by a well-preserved piece of the past: The Civil War Wilderness Battlefield. Those indentations on the side of the road? They're earthwork trench lines.
Given Marsha and Bob Stumpf's history as a military family, perhaps it's fitting that for the past 20 years, they've called the community of Fawn Lake home."My career took two simultaneous paths for the most part. I served 10 years on active duty with the United States Air Force, and then 25 years in the Air Force Reserve," Bob says. "While serving in the Reserves, I worked for MCI Telecommunications for 18 years. Marsha spent her time raising our three children, but did work as a legal secretary after college, and as an office manager in a physical therapy office when the kids were in college."
The Stumpfs were living in Northern Virginia in a community that they liked—but it didn't have the resort-style amenities that interested them. "An advertisement in the Washington Post led us one Saturday in early 1991 to Fawn Lake where Coach Joe Gibbs had an interest in the development company in which he planned to build a home. In the absence of a salesperson, we spoke with the secretary who provided us a map with numbers for lots on the golf course and lake. There were no homes, just lots," Bob says of that initial visit to Fawn Lake. "After a brief tour, we returned to the sales trailer and stated that we wanted to purchase the lot on the lake in which we live today. Incidentally, it is the lot next to the lot in which Coach Gibbs built the home in which he lived for a very brief period of time. This is our 20th year at Fawn Lake and we have loved every minute."
Not only have the Stumpfs loved every minute, they've made the most of their time there. Both Marsha and Bob are physically active, and take advantage of Fawn Lake's extensive athletic activities. "We have been and continue to be involved with sports normally played with a ball.This includes tennis, golf, and pickleball on a regular basis," Bob says. "Fawn Lake is fortunate enough to have a world-class Arnold Palmer golf course, four Har-Tru tennis courts and six pickle ball courts. We rotate between sports, but normally play something each day. Marsha's activities also include Mahjong, exercise classes, walking group, and working in the yard."
Bob also plays on Fawn Lake's Senior League golf team, which competes with other golf clubs in the mid-Virginia area, and serves on the Board of Directors of Fawn Lake Country Club. "We are members of a local church and support its activities," he says.
With all that the Stumpfs have on their plate, it's hard to imagine them taking on anything else, but in their full and fulfilling life at Fawn Lake, there's always room for a little more. "This will be the 10th year for the Fawn Lake Triathlon for which I have been the race director for the last five years," Bob says. "It takes the whole community to host the event and over 100 athletes participate each year."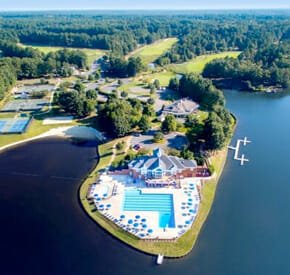 Fawn Lake - Virginia Gated Communities
Spanning over 2,350 acres of gently rolling countryside just nine miles west of the historic city of Fredericksburg VA,
Fawn Lake
offers the unique opportunity to live in the relaxed resort atmosphere of a gated community and carefully preserved trees with a 288-acre deepwater lake with over seven miles of shoreline plus and an Arnold Palmer...
Read More...
Your Information Request for your selected properties