Chattanooga (pictured above) is a visionary place: on a clear day, parts of seven states can be seen from Lookout Mountain, and its NOOGANET offers free public wireless Internet access.
Tennessee Taxes Make the Rocky Top State Even Dreamier
From tax-friendly to every taxpayers best friend: No state income tax on wages (phasing out interest and dividend income taxes). Effective real property tax rate of 0.55%.
Tennessee earned its nickname
—"The Volunteer State"— when local militiamen volunteered for duty during the War of 1812 and were notably courageous in the Battle of New Orleans.
Nashville's Grand Ole Opry is the longest continuously running live radio program in the world. It has broadcast every Friday and Saturday night since 1925.
The Great Smoky Mountains National Park, named for the smoke-like bluish haze that often envelops the hills and valleys, is the most visited national park in the U.S.
The Music Trail
From Memphis to Bristol, the Tennessee Music Highway offers groundbreaking music scenes with soul, rhythm and blues, and country music in large cities and small towns alike.
Elvis Presley's Graceland home in Memphis is America's second most visited house.
Centennial Park in Nashville was the site of the Tennessee International Exposition in 1897. Its full-scale replica of The Parthenon, with an enormous statue of the goddess Athena, remains today as the park's centerpiece attraction.
Sequoyah, a Cherokee silversmith in Tennessee, is the only known person in history to single-handedly develop an alphabet. His syllabus for the Cherokee Nation resulted in the first written language for a Native American people.
The Ocoee River in southeastern Tennessee is rated among the top white water recreational rivers in the nation and was the site for the 1996 Olympic competitions.
Tennessee has more than 3,800 documented caves, and The Lost Sea near Sweetwater is America's largest underground lake.
Vanderbilt University and its affiliated hospitals are the largest employers in Tennessee.
Explore Tennessee Communities on ideal-LIVING.com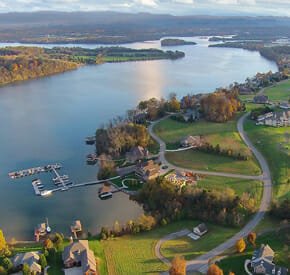 Rarity Bay
Rarity Bay on Tellico Lake is an award-winning gated lakefront community that combines waterfront living with mountain views and amenities that include a country club, championship golf course, tennis and pickleball facilities, swimming pool, community docks, horseback riding, hiking trails, and more. Come be a part of it and make the majestic Smoky Mountains and serene, clear waters of Tellico Lake the backdrop for your vacation home, second residence or forever home.
Read More...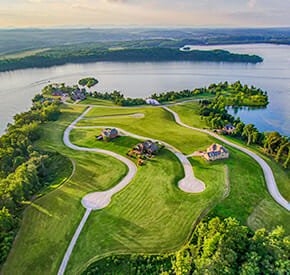 WindRiver
WindRiver on Tellico Lake in Lenoir City, Tennessee is a gated lakefront and golf course community with a private harbor and marina and featuring acre-plus waterfront properties, custom homes, and golf villas.
Read More...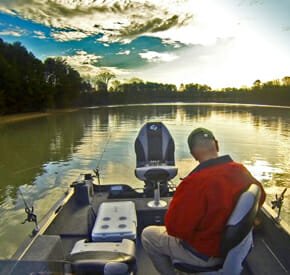 Retire Tennessee Program Communities - TN Gated Communities
Tennessee's rolling hills and invigorating mountains invite you to tune up your bicycle, dust off your golf clubs and take a deep breath. The most active years of your life await. Their beautiful climate and stunning scenery set the perfect state for chasing your passions. So come on outside and stretch your legs. Tennessee's got plenty of room to roam.
Read More...
Jasper Highlands - Tennessee Gated Communities
Welcome to Jasper Highlands, a unique residential mountain community, nestled along the bluffs of Jasper Mountain in Tennessee. This remarkable piece of residential real estate is positioned above the clouds with majestic views of Lake Nickajack and the Tennessee River Valley, with property taxes starting at $162.10 a year!.
Read More...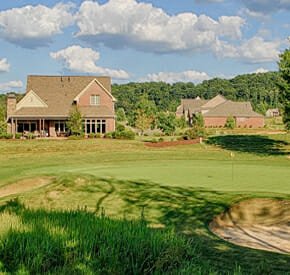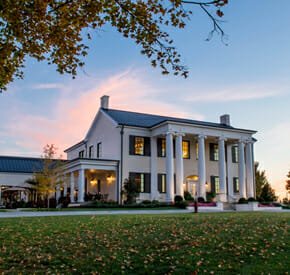 Revery Point Condominiums
Revery Point Condominiums are Foxland Harbor's premier lifestyle location situated on a bluff overlooking Old Hickory Lake. Be one of the select few to enjoy lakefront condo living in a Country Club environment with golf, dining, lakefront swimming pool, wellness center and more just outside your front door
Read More...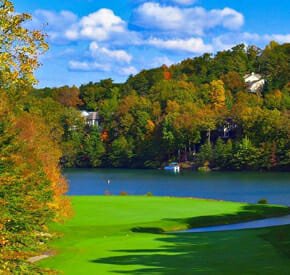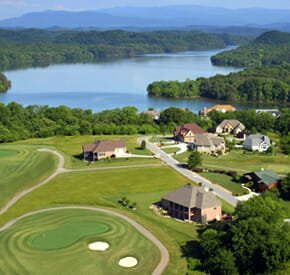 Your Information Request for your selected properties